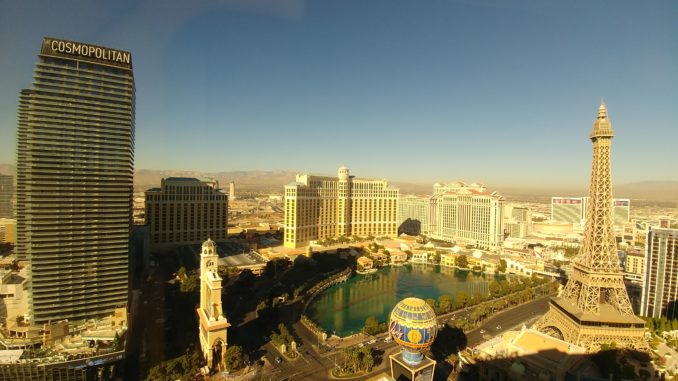 I love Las Vegas.  Pure and simple, it is one of my top three favorite places to vacation.  As I mentioned in a prior post, I've done Las Vegas in every possible way.  Pure luxury to tight budget.  I've enjoyed it every time, every way…
So our last trip (late-November, early-December), my wife and I decided to make this an ULTRA-budget trip to Las Vegas.  Airline tickets were purchased during Frontier Airline's 99% off sale.  Taxes, fees, seat assignments totaled $121 for two people, roundtrip from Atlanta to Las Vegas.  Uber from the airport to the hotel and back was roughly $30.  Hotel stay at Planet Hollywood was comped (yes, not everyone gets comped and it is based upon our gambling).  Four nights of parking off-site in Atlanta was $20.  Before food and gambling, all-in our trip was less than $175 for four nights!
Logic would say that frees up a lot of money to splurge on meals, right?  But why?  We challenged ourselves to make this trip as inexpensive as we could while still having the Las Vegas experience.
Here are three restaurants that we found that not only were budget friendly, but great value considering the quality of the meals!  Each of these were right outside Planet Hollywood, which made it convenient for us, but regardless of where you are staying, it would be worth the walk to eat at each of these!
LaSalsa Cantina
Located in the Miracle Mile Shops, I was drawn here after reading several blogs about eating in Vegas on the cheap. Let me say, this is the best, inexpensive breakfast I have had in Las Vegas…and I will be returning without hesitation!  The portion was plenty big.  After a night of gambling and drinking, this place absolutely hit the spot!
If you look at the pictures I've added, you can see what the $4.79 special includes. The tortilla is a nice addition to a very complete meal. The $.99 Bloody Mary can be upgraded to a $1.99 Bloody Mary (which is what we did the next day) and surprisingly, we loved the flavor of it!
Check out our bill for breakfast!
This is truly a little gem in Sin City.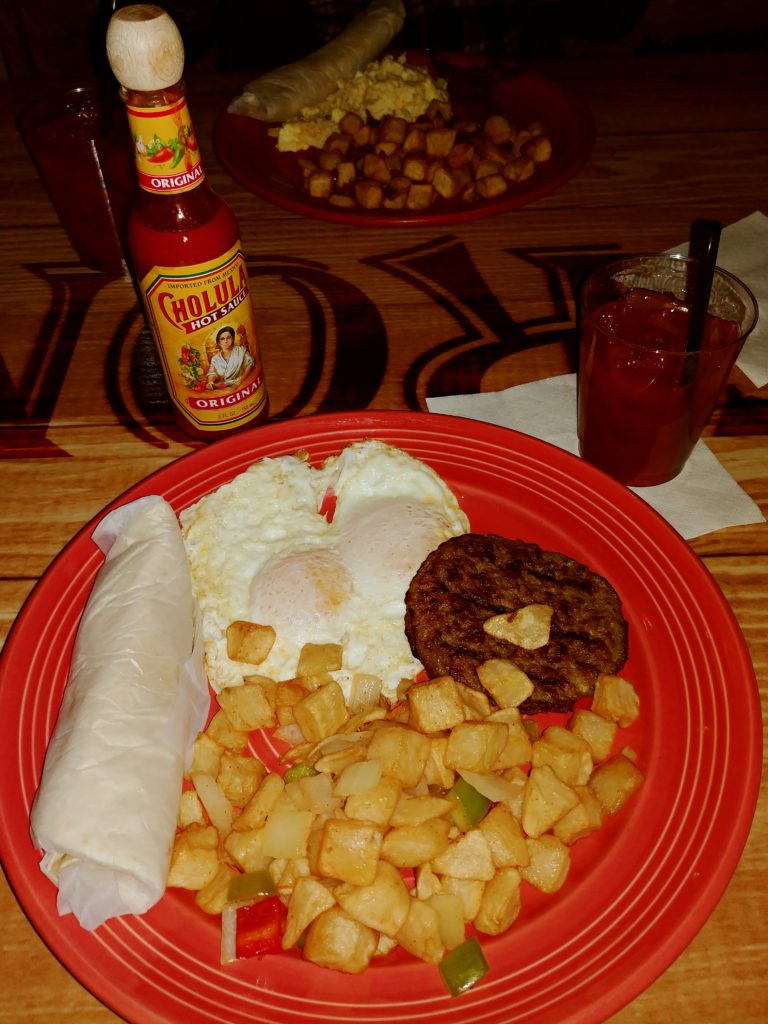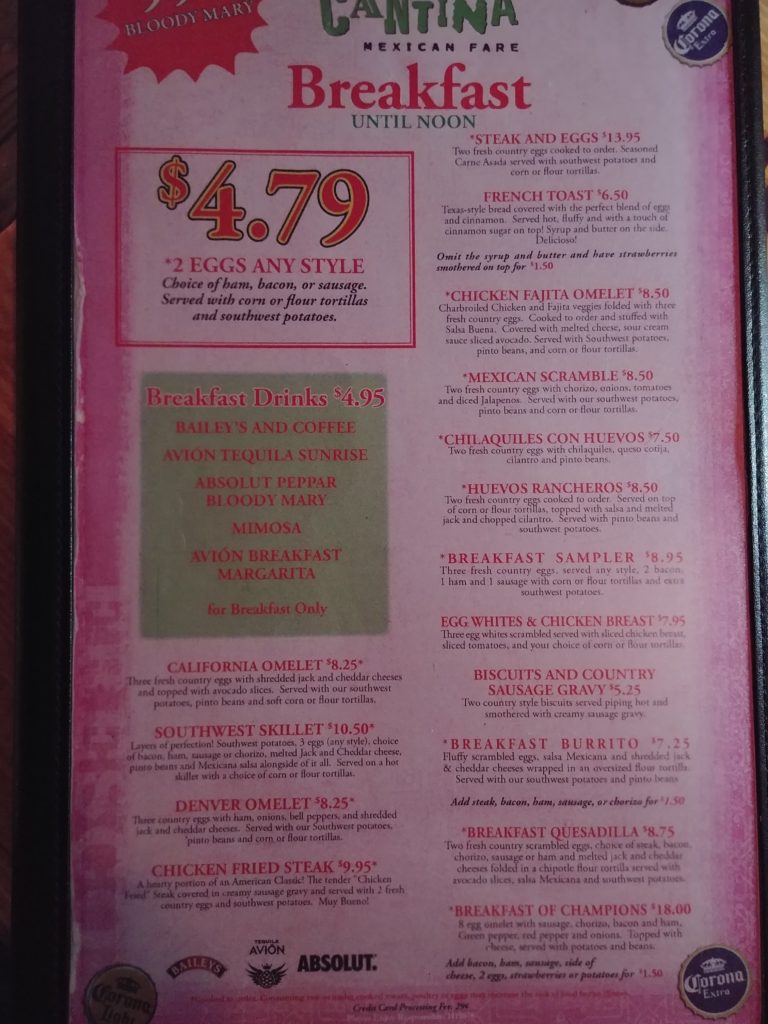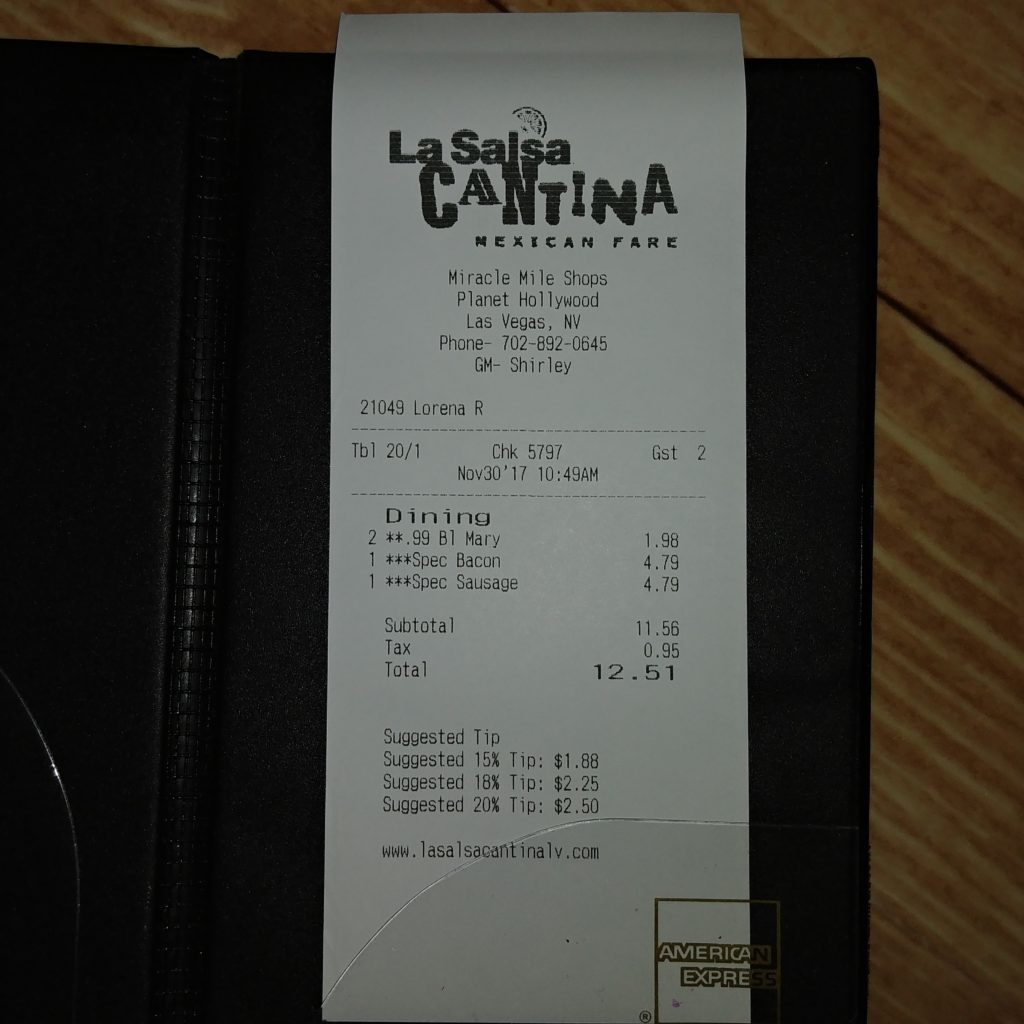 Ocean One Bar & Grille
Consistently I saw a restaurant showing on every blog as the place to go for lunch, Ocean One Bar & Grille, also located in the Miracle Mile Shops. How good can a $4.99 lunch, $3.00 beers, and 3 for 1 cocktails actually be? Good enough to have us return the next day.
The first day I had the Orecchiette Pasta. Nice Mediterranean dish with chicken, artichoke hearts, spinach, onions, tomatoes, in a lemon garlic sauce. Delicious!!! The portion was surprisingly big! My wife had a delicious half-pound sirloin burger. We each had a beer…and $3 for Goose Island IPA was a great price.
The next day we splurged, getting the Rare Ahi Tuna Wrap, the burger, the Marinated Flank Steak, and the Warm Goat Cheese Salad…what were we thinking? We didn't come close to finishing everything. Everything was so tasty and plentiful! Again we each got a beer.
Honestly, for what you'd pay at Chipotle or McDonalds, you are getting a quality meal that tastes and feels much more expensive than it is.
First day, our bill was $17 before tip and $26 the second day. The restaurant was surprisingly classy and clean.
This restaurant is an amazing value for the quality, quantity, and experience.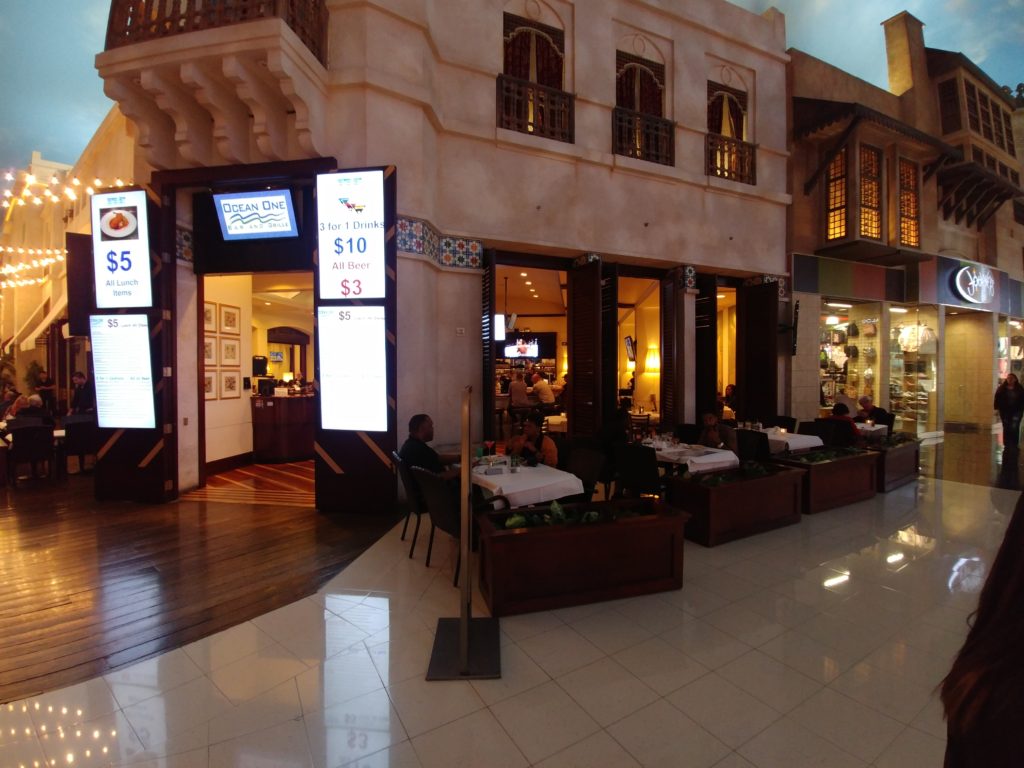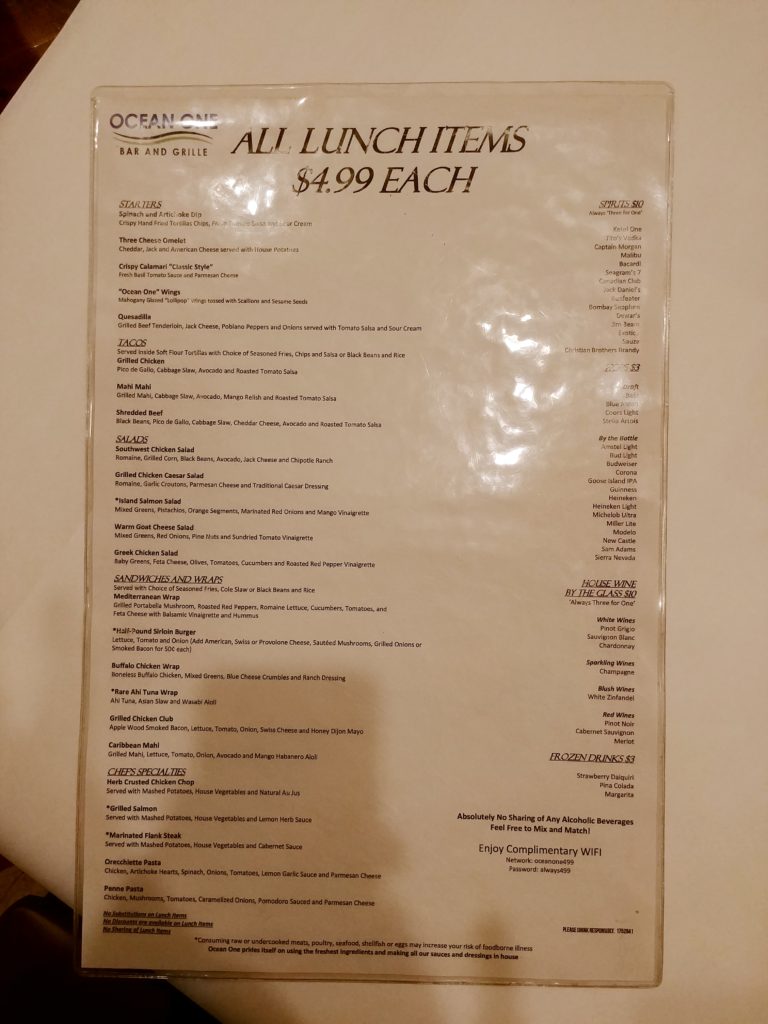 Pin Up Pizza
Lastly, this little pizza joint, right outside Planet Hollywood on Las Vegas Blvd, is the bomb!  Be patient, the line is long and seems to move slowly, but it is so worth the wait!  I will admit, I had never paid $7 for a slice of pizza until I went to Pin Up Pizza. And I never thought I'd say that for $7, it was a bargain…but it was!  Seriously, we ended up coming twice and neither time did either of us finish our slice. It is huge! I mean, you need two hands to hold it. No lie.  The dough and crust were so flavorful. The toppings were fresh and the sauce was perfect. My wife had cheese both times, but I was a little more adventurous, having a Mediterranean inspired slice.  I love the thin crust and even though it was thin, it didn't wilt and have everything spilling out.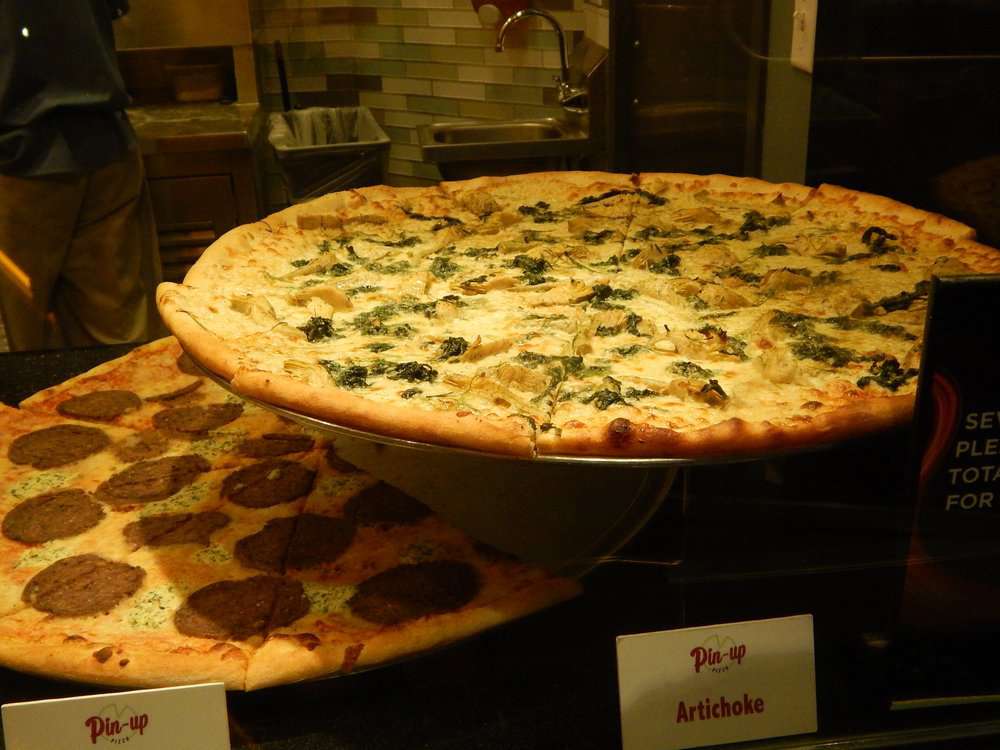 If there is pizza this good in the Atlanta area, I haven't found it.  I can't wait to return to Las Vegas just for this pizza.
Our next trip likely won't be as ULTRA-budget as this trip, but I will say that I plan to return to LaSalsa Cantina, Ocean One Bar & Grille, and Pin Up Pizza.  The value for what we received makes each of these three restaurants a no-brainer whether on a budget or not!