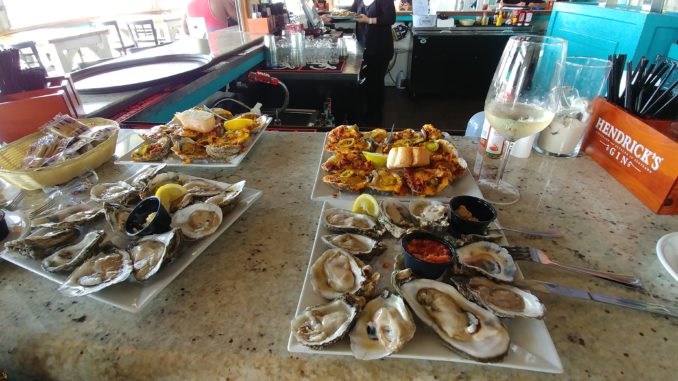 First Stop Biloxi!
Our trip started from Georgia with our first stop in Biloxi, MS.
If you haven't been to Biloxi, I actually recommend visiting…unless you have a gambling problem. Biloxi has ten or so casinos. Call it a mini-Vegas, but little of it can be done on foot. They have nice hotels, B-list type shows and concerts, and some of the best Gulf Coast dining!
While we were there, we saw on the news and read on-line that Biloxi Beach was named one of the top 5 Family Beaches in the United States by U.S. News and World Reports http://www.sunherald.com/living/travel/article160560979.html The list included two beaches from Hawaii! Do I believe it should be top 5? Probably not. But it was nice for Biloxi to be mentioned with the others. Honestly, we never saw the beach crowded, so if you want your space with beautiful, white sand and calm waters, maybe this is your place!
Dining in Biloxi has never disappointed me. We have done cheap, we have done expensive, and everything in between. Tien at the IP Casino is an Asian restaurant that is consistently good. The Pho was only $10 and the portion size was enormous!
Two restaurants really stood out. The steakhouse Thirty-Two which is located on the 32nd floor of the IP Resort. The other was Bacchus on Biloxi Beach.
I had the single best dish in my life at Thirty-Two, a sweet tea brined bone-in pork chop with red pepper jelly. Cooked medium, the pork melted in my mouth and the essence of sweet tea and red pepper jelly danced on my tongue. The dish paired perfectly with my Manhattan (that was an extremely healthy pour for only $8). I am actually trying to replicate that dish today at home.
Bacchus moved from across the street from Beau Rivage to the location next to Shaggy's about a mile and a half from the old location. Prices are a tad higher than before, but the view and outdoor bar on the beach makes it worth it! Happy hour (half-priced oysters and drink specials) is all-day Tuesday and then other days from 2:00 pm to 6:00 pm. Their Oysters Casino are to die for! Big, juicy oysters with cheese, herbs, and jalapeño, I polished off six dozen myself over two visits, not to mention the raw oysters! Jeremiah and Sam were fantastic bartenders!
Aside from the casinos, dining, and beach, what I really like about Biloxi is how friendly everyone is that you meet. True southern charm.
Much like Vegas, there is the perfect amount of time you can spend in Biloxi. Six days, five nights is too long…for both places. We will return (heck, IP and Golden Nugget have already sent me offers for free nights and free food), but the stay will be much shorter.
Fortunately we had a few more days off and decided to go to New Orleans. I have been two or three times since Hurricane Katrina, but it was either for work or with the family. Neither allowed me to enjoy the "adult" New Orleans…this trip would be different.
New Orleans is less than two hours from Biloxi which makes hitting both spots on the same trip really easy and convenient.
We stayed at Maison Dupuy, about two blocks off Bourbon Street in the French Quarter. The location was an easy and safe walk to Bourbon Street. The hotel is a 3.5 Star rated hotel, but I would rate it a solid 4 Star. It has the true New Orleans charm and architecture. Every detail seems perfectly planned and executed. The rooms were on the small side, but were very comfortable. Our room overlooked the courtyard with a pool. We could have had a street view, but I am glad we opted for the courtyard view. You can pay a lot more for the same or similar experience in the French Quarter, but why? I highly recommend Maison Dupuy!
After checking in, we ventured to Bourbon Street. It was about 2:00 pm and beastly hot and humid. You could hear music coming from a number of different bars. Jazz, Blues, Hip-Hop, and piano players taking requests. Most bars had drink specials running during the day…three for one beer and drink specials seemed almost everywhere. Though we visited a number of the bars as we navigated Bourbon Street, we ended up spending a good part of the afternoon at Bourbon Heat listening to a Blues band that was really tight.
The live music scene is amazing in New Orleans. We are partial to 80's and 90's rock, so for us, the band Rockbox at Fat Catz filled our need to sing Journey, Bon Jovi, and other rock anthems at the top of our lungs. Added surprise was the 70's covers that I grew up on! There was another venue, I believe it was the Swamp, that had a really good rock band, but honestly, I can't remember the name of the band. My favorite performer / band was Jamie Lynn Vessels who was playing at RF's. You are hearing it here first…she is going to be a huge star! Folksy rock a la Melissa Etheridge or Bonnie Raitt, Jamie Lynn Vessels is beautiful, engaging, and extremely talented.
I know New Orleans is known for its food, but maybe its lost on me. Don't get me wrong…the food was good, but not sure I'd call it special. I had the crawfish étouffée at Pat O'Brien's Courtyard Restaurant, stuffed flounder at Deanie's Seafood Restaurant, Char-grilled oysters at Acme Oyster House, and Beignets at Cafe Beignet. The char-grilled oysters were amazing, but the others were just ok. But what I will say, I found the prices for food and drink very reasonable in New Orleans. Yes, we could have found fine dining and maybe I would have had a different take on the price and quality of the food, but middle of the road is more my style so that is what I stuck with. Plus I think it gave me a truer New Orleans experience.
A special treat at Cafe Beignet was enjoying the beignet with the chicory coffee while listening to Steamboat Willie and his ensemble planning old classics from Frank Sinatra. Buttery smooth voice in the outdoor setting was really neat. Definitely felt like it took me back in time.
New Orleans is the only place I've been where it is more crowded at 2:00 am than it is at 2:00 pm! And trust me, the energy level at 2:00 am is high…fueled by alcohol, youth, and debauchery. You'll see everything, and some of what you see you'll wish you didn't. Though it may not be pretty to look at, I do admire the confidence some women possess going out on the town in a size 6 outfit when their body is closer to a size 16! It is a great place to people watch, but just make sure you bring an open mind and a sense of humor.
The overall adult experience we had in New Orleans was great. Forty-eight hours there was too short. I would do three days, party hard day one, rest day two, and then party hard again on day 3. Next time I think I would enjoy seeing more true jazz bands and sampling more local cuisine.
I was really surprised how far our dollar went in New Orleans. Having taken the family before, this "adult" trip has convinced me that is the way to do New Orleans. And some of the "adult" activities (jello-shots and test-tube cocktails) are more than I care to share, but definitely will remain as part of our fuzzy memory of the trip!