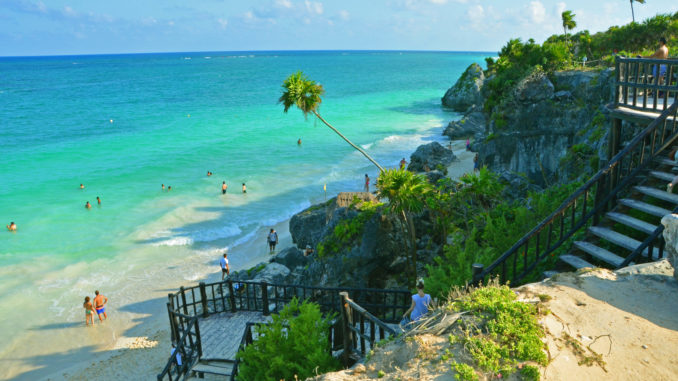 Spring is here.  The days are getting longer, the temperature is on the rise, and the feel of summer is here as school lets out.  I love this time of the year!
My need to soak in the sun and get away from it all is expected after winter and the demands of the job that pays my bills.  I need a vacation.  I need to unplug and get just relax.  I need to be waited on and pampered.  I need the heat, the sounds of the ocean, and having new experiences (even if they seem old…new people, places, and food make the experience new!).
The itch has been coming…but my attempts to scratch it haven't solved the problem.
We've traveled to Biloxi, MS and Greenville, SC.  Baltimore, MD and the Blue Ridge Mountains of Georgia.  All were great trips, yet none satisfied my need.
There is something special to me about traveling somewhere tropical.  Life isn't rushed.  There is a calmness I find soothing.  The pool and beach are full of people, young and old, fit and fat, and everything in between.  You don't hear or see conflict.  You are not wrapped up in what is happening with the stock market or with politics.  Instead you hear joy.  You see smiles and laughter.  Regardless of who or what you are, you find connection with people and your surroundings.
Often I live on the island of "Someday I'll".  That dream of what my life will be someday.  I romanticize of life in Mexico or Belize.  I can see myself in the coastal towns of Tulum or Akumal, blending in with and becoming a local.  My hair sun-bleached back to the blond locks I had as a child (assuming I'm not bald by then).  Swimming with the sea turtles and taking in the beauty that would surround me.
So I find myself escaping daily to Expedia.com, Cheap Caribbean, and TripAdvisor scoping my next trip.  I read the reviews, look at all the pictures, and view the map of the resort and nearby sights.  What is the saying?  Do or imagine within when you are without.  So this is where I am.  Vacationing in my mind.
I hope to find something soon.  When I have the time, money is the issue.  When I have the money, time is the issue.  But these obstacles will be overcome…they always are.  In the meantime, I explore online and dream.