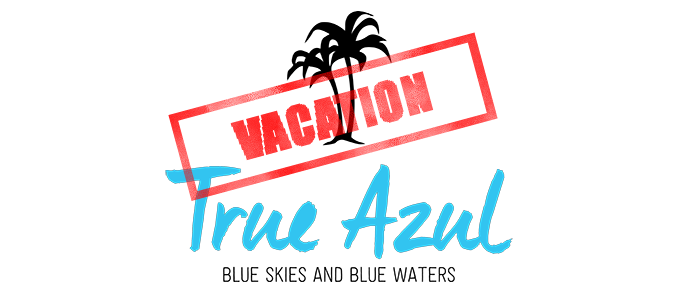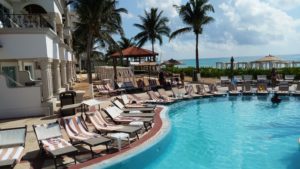 I keep trying to convince myself that one of these days I am going to travel to somewhere tropical and stay and pay as I go.  You know, traditional travel where the room, food, beverages, and activities are paid separately.  It would give us the freedom to stay, eat, and play wherever we'd like.
But when I put pencil to paper and budget the trip, I can't do it.
We have stayed at seven all-inclusive resorts in Mexico over the last few years, some good, some great, one amazing, but none were bad.  In fact, even the worst all-inclusive we stayed at had an amazing view, fantastic restaurants, and beautiful beach.
We stayed eight days and seven nights at The Royal Playa del Carmen in August.  This is the resort I rate as amazing. If I were trying to replicate this trip paying as I go, I would be deep in debt.  But bundled as an all-inclusive, I view this luxury vacation as a borderline budget vacation.
How can I say this about a trip that cost roughly $3,000 for two adults?  It's how you break down the cost.
The breakdown of the cost is as follows:
Airfare, room, meals, and beverages $2,818.  This works out to $1,409 per person.
Transportation to and from hotel $94.
Parking at airport $72.
Round trip airfare on Delta from Atlanta to Cancun is $386 per person.  So the remaining $1,023 is the cost of the hotel, food, and drinks for eight days and seven nights.
We stayed at The Royal Playa del Carmen, a 5-star resort with 5-star dining and top-shelf liquor.  It is an all-inclusive resort that includes everything…food, drink, room, taxes, and gratuities.  Everything!  We had an ocean view suite overlooking the pool and central to everything.
So to break down the balance of the cost based on the remaining components, there are many ways to view it.  I'll start with the hotel.  Let's say the hotel, per night, including taxes and resort fees totaled $250 per night just for the room.  That is $125 per person, per night, or $875 for seven nights.  This leaves $148 for all food, beverages, and gratuities for eight days, or $18 a day.  On 5th Avenue in Playa del Carmen, that will get you a plate of nachos and a beer.
Ok…so that doesn't make sense.  Let's first review the meals and beverages, plus gratuities.  We had 22 meals during our stay, 7 breakfasts, 8 lunches, and 7 dinners.  The breakfast was a buffet with three cook-to-order stations and a beautiful spread with regional and gourmet items.  Conservatively speaking, let's say it was $12 per person for the buffet, including beverages.  With tip and tax, the total is $15 per person per day.  Total over seven days is $105 for breakfast.
The options for lunch were amazing…in fact I had filet mignon for lunch twice.  But I won't price this out based upon what I actually ate (shrimp cocktail, octopus, filets, seafood, gourmet asian dishes, etc.).  Using $15 per person, with tip and tax, approximating $19 per person in total, the eight lunches would amount to $152 for the week.
Dinners were 5 star, gourmet meals.  These meals easily would have been over $60 per person in the United States…and over $100 in many metropolitan areas.  But for purposes of this analysis, let's say dinner, complete with appetizers and desserts, amounted to $32 per person, $40 including tips and taxes.  The total for seven nights amounted to $280 per person.
So the total per person for food for the week amounted to $537.
At an all-inclusive, for some strange reason, people tend to drink more than normal.  But I'll price this out as if you were on a normal vacation where you were paying per drink.  A beer with lunch, $6 including tip and tax.  A drink poolside, maybe with an umbrella, each day, $8 including tip and tax.  Cocktail before dinner, $10 including tip and tax.  Glass of wine with dinner, $10.  Night cap, $10.  This works out to $44 per day in beverages, or $308 per person for the week.
So the total food and beverage bill for the week is $845.  That leaves $178 for the room, taxes, and resort fees for the seven nights per person, or roughly $25.50 per night.
In reality, the room was of the highest quality and easily would have been over $500 per night at any oceanfront resort in the States.  A comparable breakfast, lunch, and dinner would have been $18, $35, and $75, respectively, per person, per day.  The top shelf liquor and other alcohol easily would be over $75 per person each day.  All this and I haven't even discussed the entertainment and activities that are included.
No matter how I slice up the costs, considering the value of the all aspects of this trip compared to what a comparable vacation would have cost elsewhere, this trip definitely meets my definition of a budget vacation!
So if you are planning a vacation, look at your options and how far your dollar goes.  You may be pleasantly surprised.  As I write this, the peso to dollar is 18 pesos to $1…very favorable.
When you break down every component of your trip, you will likely find that you can enjoy a 5 star experience for a 2 or 3 star price when staying at an all-inclusive.
#theroyalpdc